Dear Friends,
As we celebrate our 25th anniversary of building homes and building hope in Highlands County, we reflect on the blessings of the people in our lives, and the opportunities we've been given to help those in need in our community. Thanks to the generosity of our kindhearted donors, dedicated staff and board of directors, and loving volunteers, we continue to make tremendous progress toward the elimination of substandard housing throughout our communities. However, while the number of families in poverty housing is growing, the number of affordable rental units is shrinking. Now more than ever, we need your continued support.
The good news is, since 1990, Highlands County Habitat for Humanity has served 200 families through home ownership, home rehabilitation, minor and critical home repair, and even wheelchair ramps. Thanks to our supporters, we are on track to complete an additional 7 homes by December 2016. Our partner families purchase these homes through a no-profit, zero interest loan and these mortgage payments support the construction of future Habitat homes.
In addition, our 17,000 square foot ReStore has kept thousands upon thousands of pounds of household goods and building materials from going to the county landfill. It has also offered families the opportunity to buy household necessities and clothing at a price they can afford, AND it's allowed so many people to find a purpose through weekly volunteer service.
Our vision is a world where everyone has a decent, affordable place to live, but our work achieves much more than that. Beyond the houses we've built, the sofas we've sold, the renters who've become taxpayers, and the things diverted from the landfill, the work Habitat for Humanity does continues to lead the ordinary, hurting person to Christ. We are on a mission to do the Lord's work. Day in and day out, Habitat for Humanity witnesses hurting souls find strength and feel hope they never thought possible. Before our very eyes, we see families realize dreams they never imagined would come true. We see them become renewed as a family unit, and grow deeper in their Christian faith.
I am so grateful for the opportunity to lead this wonderful organization into the future. I am even more grateful for the many Habitat volunteers and donors who contribute their time, talents, and funds so that we can continue fulfilling our mission.
God wants EVERY family to have a safe place to call their own, but we need YOU to help us make sure it happens. When Millard Fuller first realized his vision for Habitat for Humanity, he said "For a community to be whole and healthy, it must be based on people's love and concern for each other." Please help us make Highlands County the healthiest and happiest place to live – not just for Habitat homeowners, but for everyone!
I hope you enjoy navigating our new and improved website and that you learn something about Habitat that you didn't know before. My team and I would love the opportunity to share our goals with you! Please contact us if you'd like to learn more. May the peace of the Lord be with you.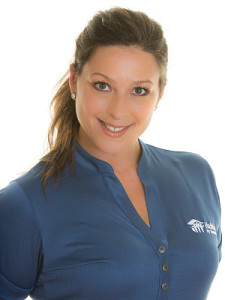 Sarah J. Pallone
Executive Director